High Quality Pin Type 4p Electrical Copper Busbar 125A
Model:

MR-PIN-4P

Type:

Pin Type

Material:

Red Copper (T2 99.6% )

Application:

Conduct Electricity

Character:

Environmental Protection

Species:

Terminal

Production Process:

Press

Interface Type:

AC/DC

Certification:

RoHS, ISO: 9001, SGS, Ce, TUV

Rated Current:

32A, 40A, 50A, 63A, 80A, 100A, 125A

Rated Voltage:

415V

Length:

100cm

Appliable Ambient Temperature:

-25~+50
Contact Now
High quality pin type 4P electrical copper busbar 125A
Product Description of copper busbar:
Terminal Block Connector Pure Copper Busbar is used for kinds of circuit breaker, copper busbar ease wiring electrical item,enlarge area, decrease temperature rise and thus increase the electric reliability of electrical items.
Technical features of copper busbar :
Material is of fire-resistant PVC and redl copper
Current rating is up to 125A
Rated voltage is up to 415V
Applicable ambient temperature -25~+50
Standard length 1m, other length tol be made upon request.
Good conductivity, low contact resistance, safe and reliable.
How to choose the copper busbar: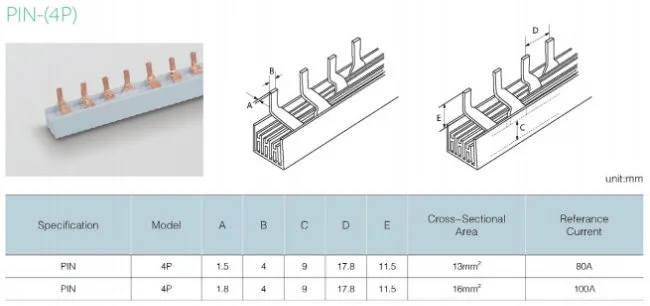 Packing information:
| | | | | | | |
| --- | --- | --- | --- | --- | --- | --- |
| PIN Type | Dimension | PCS/CTN | Packing(cm) | G.W kgs | N.W kgs | Material |
| PIN-1P-32A | 1.0*5mm | 200 | 101*22*12 | 26 | 25 | Copper |
| PIN-1P-40A | 1.2*5mm | 100 | 101*12*9 | 14 | 13 | Copper |
| PIN-1P-63A | 1.5*7mm | 100 | 101*12*9 | 16 | 15 | Copper |
| PIN-1P-80A | 1.5*9mm | 100 | 101*14*10 | 21 | 20 | Copper |
| PIN-2P-40A | 1.0*7mm | 50 | 101*14*8 | 15 | 14 | Copper |
| PIN-2P-50A | 1.2*7mm | 50 | 101*14*8 | 16 | 15 | Copper |
| PIN-2P-60A | 1.4*7mm | 50 | 101*14*10 | 18 | 17 | Copper |
| PIN-2P-63A | 1.5*7mm | 50 | 101*14*10 | 21 | 20 | Copper |
| PIN-2P-80A | 1.5*9mm | 50 | 101*14*10 | 23 | 22 | Copper |
| PIN-3P-40A | 1.0*7mm | 50 | 101*14*8 | 14 | 13 | Copper |
| PIN-3P-50A | 1.2*7mm | 50 | 101*14*8 | 15 | 14 | Copper |
| PIN-3P-60A | 1.4*7mm | 50 | 101*14*10 | 17 | 16 | Copper |
| PIN-3P-63A | 1.5*7mm | 50 | 101*14*10 | 20 | 19 | Copper |
| PIN-3P-80A | 1.5*9mm | 50 | 101*14*10 | 22 | 21 | Copper |
Feedback